Safe, Effective Flea and Tick Prevention in Morristown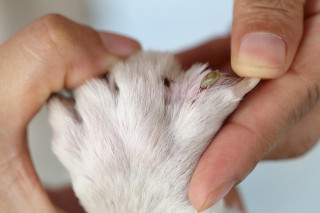 Few things are better than enjoying a sunny summer day with your canine companion or feline friend. Unfortunately, summer is when fleas and ticks are most prevalent, too. These parasites are notoriously difficult to get rid of and cause a wide range of health problems in pets. Without treatment, severe infestations can cause everything from itchy skin and fur loss to kidney problems and fatigue. Fleas and ticks are common causes of skin infections, too. 
Flea and tick preventatives from your veterinarian are much safer and more effective than those you can purchase at the grocery store. At Happy Paws House Calls, we can help you choose the right product for your pet as part of their routine wellness care. Keep reading to learn more. 
Why Prevention Matters
Protecting your pet from fleas and ticks is about more than preventing itchiness. These parasites carry Lyme Disease, heartworm, and various other diseases, and they can make your pet sick. They can also jump off your pet and onto you and your other family members, causing many of the same problems. 
Keeping parasites out of your home is much easier than getting rid of them. A single flea can lead to an infestation of thousands of these nasty creatures, and when that happens, eliminating them is extremely difficult. Due to fleas' reproductive cycles, completing ridding your home of them can take several months. 
Flea and Tick Prevention in Morristown
For flea and tick prevention in Morristown and the surrounding areas, trust Happy Paws House Calls. From helping you choose the right product for your pet(s) to making sure you know how to use flea and tick preventatives safely, Dr. Mini will work with you to help you provide complete protection. Please contact us today to schedule your companion's appointment.
By accepting you will be accessing a service provided by a third-party external to https://happypawshousecall.com/