Protecting Your Pet this Holiday Season: Hazards to Avoid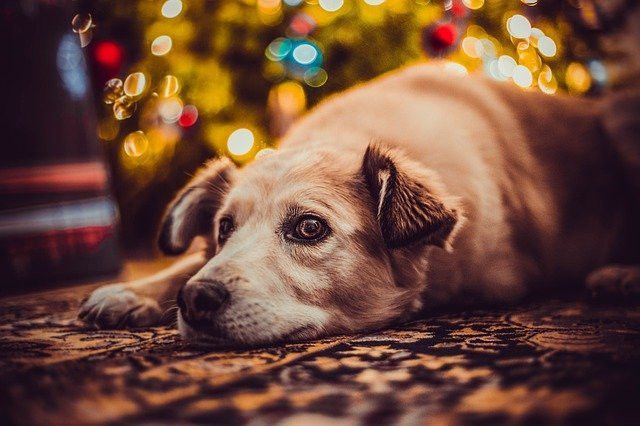 No pet parent wants their holiday festivities to end with a visit from a mobile vet in Morristown. After all, the holiday season is meant to be a joyful time overflowing with fun and delight. Unfortunately, it is also a time that can be rather hazardous for our pets, and unexpected vet visits are common during the holidays. Some of the things that make the holiday season merry and bright for us may be dangerous to our four-legged family members. If you are not attentive, your dog or cat might find themselves injured, sick, or much worse. 
In terms of safeguarding your beloved pet and also ensuring that the holidays are joyful for the whole household, awareness of possible hazards is crucial. Scroll on to learn about some of the most prevalent pet hazards during this time of year. 
Tinsel and Glass Ornaments
Shiny glass ornaments and shimmery tinsel make eye-catching additions to any Christmas tree. Did you know, however, that tinsel and ornaments - especially glass ones - are hazardous to dogs and cats? When ingested, tinsel can easily get twisted up in your fur baby's intestines, creating a potentially life-threatening obstruction that will need to be taken out via emergency surgery. Also, glass ornaments that are pulled off of the Christmas tree and smashed can easily result in serious cuts or even internal injuries (if swallowed). Keep your companion safe by throwing the tinsel in the garbage can and decorating with ornaments made from plastic. 
Holiday Meals
If you're considering serving your cat or dog a plate of food at your family's Christmas meal, you might need to reconsider. A couple of your most beloved holiday ingredients may be poisonous to your furry family member and could possibly lead to severe complications. Don't share anything that contains alcohol, chocolate, grapes, or onions with your pet as these ingredients are toxic. Unfortunately, fat trimmings and bones aren't safe treats, either, because they can cause choking or even pancreatitis. To protect your cat or dog (as well as to avoid an appointment with a vet in Morristown), it's always better to keep them on their usual food and treats during the holidays - no matter how much they beg for table scraps. 
Electronic Lighting and Decor
Strings of shimmering lights and decorations that plug into your home's outlets create a festive holiday atmosphere, however, they may be dangerous to your fur baby. If you own an inquisitive cat or fun-loving pup who likes chewing on things, the cables and blinking bulbs could prove to be impossible to resist. Just one bite could result in severe burns in their mouth or electrocution, so it is critical to double-check that all cables are inaccessible to your pet. 
When to See a Trusted Vet in Morristown
If your pet gets sick this holiday season or experiences a serious injury, it's always best to err on the side of caution and seek treatment from a veterinarian. When your favorite fur baby needs a trusted vet in Morristown, look no further than Happy Paws House Calls. We will come to you and provide the care your companion needs in the comfort and familiarity of your own home. Call now to schedule an appointment. 
By accepting you will be accessing a service provided by a third-party external to https://happypawshousecall.com/